Disclosure: This post (probably) contains affiliate links. If you click on one, I may make a small commission. Of course, this will come at no extra cost to you and helps keep this site running.
Italy has no shortage of incredible, idyllic cities that conjure up romantic holiday notions. Truly the same goes for the ever-popular region of Tuscany. Here you find powerhouse destinations like Florence, Siena and Pisa that are each exceedingly popular with tourists to Europe. While I enjoyed visiting all three, I wouldn't elect any as my favourite city in Italy. No, I think that honour goes to their small neighbour, the ever-lovable Lucca.
In my two trips to Italy in the last few years, there are few places I've been to more than once. I mean it's Italy, there's just so many places to see! And yet, both times I've found myself visiting Lucca. It shares many of the traits that make places like Florence and Pisa so fascinating and yet has charms all its own. Read on as I share my reasons for why Lucca may just be my favourite Italian city.
Lucca, A Walled City
Probably the thing that most won me over originally was Lucca's immense city walls. The historic city is surrounded by thick and high fortifications that date back to the Middle Ages. The jagged walls that encircle Lucca have a pretty famous architect, the one and only Leonardo Da Vinci. Built in the 16th and 17th century, the walls are so broad that there is a road that loops around the top. It's a popular spot for runners and cyclists, but it's even wide enough for a car to drive around.
The track around the tops of the walls runs about 4km, making it a comfortable walk and nice way to see more of the city. If you can, head out through one of the gates or tunnels, just to see how impressive the fortifications are from below. I'm always a fan of walled cities and Lucca has to be one of the best.
A Place that Oozes History
Because the historic centre is enclosed by city walls, Lucca has managed to convincingly preserve its heritage. Everywhere you go in Lucca's old town reflects a look of a city from centuries ago. Really the only touches of modernity are the cars in certain streets and the antennas and dishes on people's roofs. Aside from that, it's like stepping back in time.
It's also a place that is very much lived in. The historic old town isn't for show, but indeed primarily made up of residential buildings. The most remarkable of these to me are the tall buildings that run around where the city's amphitheatre once stood. Yes, where the ancient amphitheatre once lay, now a ring of houses stand, preserving the oval plaza within.
What's also great is that you can stay in the heart of the old town, in converted residences. In fact, I was even able to stay in a B&B on the outer ring of the amphitheatre. For an affordable stay in a great location, I definitely recommend the B&B Anfiteatro.
A Sea of Towers
When it comes to exploring cities, one of my favourite things to do is find a tower to climb. Being able to look out across a city's rooftops and see a place from a different perspective really transforms how you see a destination. What's great about Lucca is that it has so many towers to choose from. It not only means there are plenty of viewpoints that won't crowd up, but the skyline is full of historic towers emerging from the rooftops.
A clear favourite of mine has to be the Torre Guinigi, in my mind the most awe-inspiring historic tower in the world. What makes the tower so wonderful is the trees that erupt from the brick tower's top; a medieval rooftop garden. The only problem with climbing the Torre Guinigi is that you can't see the Torre Guinigi!
That's where towers like Torre delle Ore or the Bell Tower of the St Martin Cathedral come in. From these you get Lucca's beautiful cityscape, this time including the surreal tower in the skyline.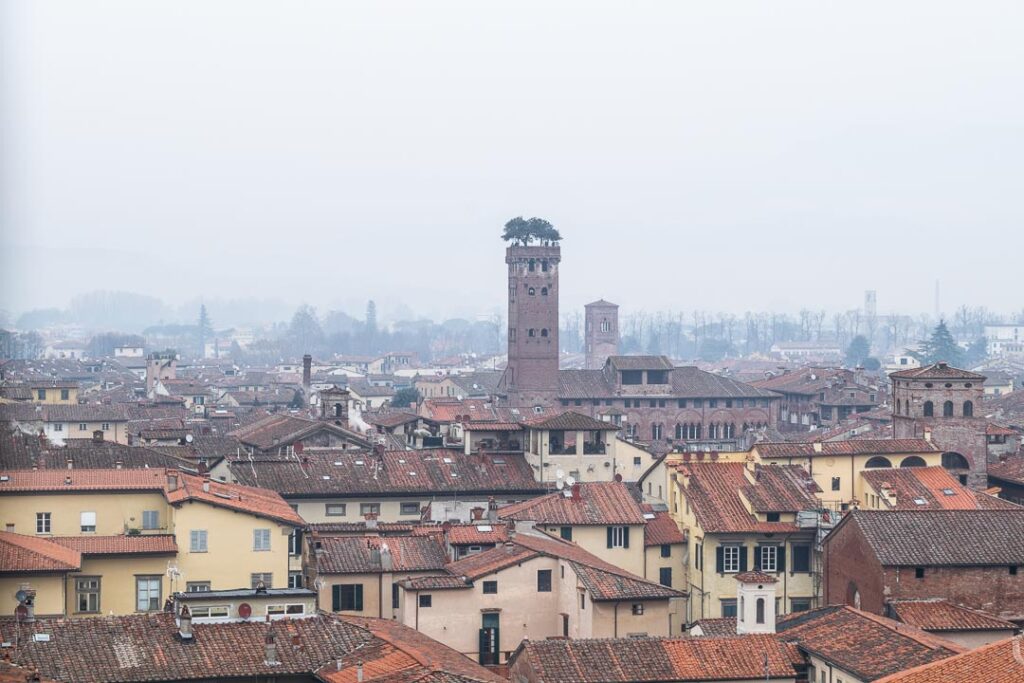 Labyrinth of Narrow Streets
My favourite way to explore a city is on foot, wandering to my heart's content. This is made so much easier when you're in a compact, pedestrian-friendly place like Lucca. Well, pedestrian-friendly in the sense that most street don't allow cars. Actually, Lucca can be a little challenging to navigate as its layout is quite random and organic. It still retains that medieval style of narrow streets, alleys and lanes similar to cities like Orvieto and Perugia.
This difficulty in finding your way isn't helped by the fact that from street level you often can't spot landmarks like towers with which to orient yourself. This is because most buildings in Lucca are several stories high, restricting your view. Now this might all sound like a negative, but I love the experience of wandering through a city following whatever whim strikes me.
Grand and Elaborate Architecture
When it comes to churches and cathedrals, it's fair to say that Italy has some of the best in the world. In so many Italian cities you find wonderfully adorned churches and cathedrals and Lucca is no exception. Within the small city you'll find a surprising number of marble churches, each with its own elaborate facade and design.
One of the city's most grand churches is the Chiesa di San Michele in Foro in the very heart of the old town. What strikes you about the church seen above is its four stories of loggias below an oversized statue of St Michael the Archangel. An equally striking facade can be seen on the city's St Martin Cathedral. It too has an intricate design on its facade, which actually includes individually decorated columns. It's a building that looks amazing from both afar and right up close.
Quieter Part of Tuscany
Few countries receive the hectic influx of tourists like Italy. This is particularly true in summer, but even in winter you'll be surprised by tourist numbers in places like Rome, Florence and Venice. Somehow Lucca has managed to avoid the crowds up to this point. My first visit in summer, there were a number of tourists around but a small fraction compared to Florence or Siena.
In winter it was practically deserted, despite still being just as enchanting. A visit to Lucca is a great way to get a feel for the region and see some of the best of Tuscany, without battling the crowds. Although you can visit independently, there are also heaps of Lucca tours available.
Travel Tips for Visiting Lucca
While it's possible to visit Lucca as a day trip from Florence or Pisa, I think it's better to visit over at least 2 days;
Getting to Lucca is incredibly easy when already in Italy, with plenty of buses and trains from other cities and town;
Check Skyscanner to find flights to Pisa International Airport, the closest airport, much like it is for Florence;
Avoid driving in the city centre as there are few roads that aren't pedestrian and you'll likely have to walk anyway;
That being said, just because you won't need a car in Lucca, doesn't mean that a rental car isn't useful to get to Lucca and elsewhere in Tuscany;
Winter is the city's offseason and while quiet, there are several places that are either open at reduced hours, or closed completely.
---
If you have visited Lucca, what did you think of this city? Where is your favourite place in Italy? Please share your thoughts in the comments below.

This article is now available as a mobile app. Go to GPSmyCity to download the app for GPS-assisted travel directions to the attractions featured in this article.